5 Reasons Why Fidget Spinners are Taking Over the World
The fidget spinner? Yes, this low cost promotional product is taking over the promotional product world by storm. In fact, we see it taking over the market share from popular items like stress balls and desktop puzzles. If you don't know about them yet...you will. Take a look at our Fidget Spinner Special for June 2017.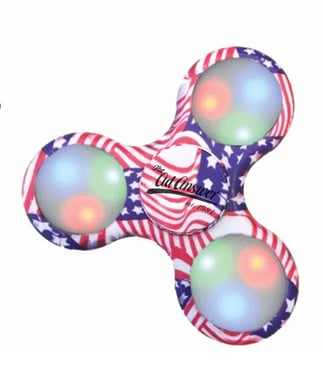 Here are our top 5 reasons why fidget spinners are taking the advertising speciality world by storm:
Perfect tool for thinking and concentration
Amazing item to reduce stress and relax
Inspires creativity and increases the ability to improvise
Stop people from staring at their phones all day
Perfect low cost item for brand recognition and promotional marketing
The fidget spinner is here and it's the perfect conversation starter. We believe that it's an amazing promotional product for concentration, stress relief and creativity. It is a perfect low cost promotional product.
Stop procrastinating and spin your brand to the top this summer.
Want to know more about this promotional product and receive a sample? Take a look at our Fidget Spinner Special for June 2017.